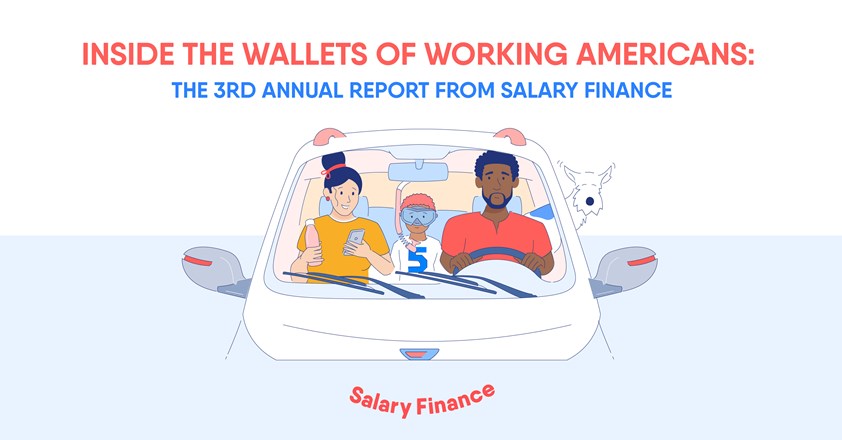 COVID-19 has pushed women, Black or African-American and LatinX employees, employees who identify as LGBTQ, and those with disabilities even further behind
Despite the rosy picture of economic recovery painted since the COVID-19 vaccines became available, many Americans have reached, or fallen over the edge of financial precarity - and, in a year where there was more of a spotlight on inequity and efforts to be more inclusive, the financial situation of the most vulnerable populations has become even starker, according to a new data study published today by Salary Finance, the leading global provider of financial education and salary-linked benefits for employees. 
"Inside the Wallets of Working Americans, the Third Annual Salary Finance Report" reveals the findings from more than 3,000 American workers - about 2,700 of whom work for companies with more than 500 employees, as well as about 300 unemployed workers - and includes questions on ethnicity, sexual orientation, and disability status for the first time. In many instances, the data is troubling and demonstrates the widening chasm between groups: 
Only 35 percent of Black or African-American and 37 percent of LatinX people have at least three months' worth of expenses saved. Close to 50 percent of the general working population reported having this amount of money saved.
Over half of Black or African-American employees (55 percent) and 45 percent of LatinX employees say they are unhappy with their level of savings (vs. 37 percent of the general population). This was a common theme that emerged from the survey: the most vulnerable communities have become increasingly more vulnerable during the COVID-19 pandemic. 
At least 50 percent of women, LatinX people, people identifying as LGBTQ, and people with disabilities report feeling financial stress. Similar to last year, 42 percent of the general working population are experiencing financial stress. Fifty-four percent of people reported that COVID-19 negatively impacted their finances. 
"COVID-19 and the need for social reform has heightened our awareness of a growing problem in our culture: the disparity in financial wellbeing between genders, races, sexual orientation, and disability status," Dan Macklin, CEO, Salary Finance, said. "In the last year, we have witnessed success stories - some of the key areas we researched and covered in the 2020 version of this report actually saw improvements year-over-year - but we've seen regression when looking at the financial needs of our most vulnerable populations. As business leaders, it's urgent that we commit to the mission set forth by diversity, equity, and inclusion governance and put into place programs that support those at-risk populations. We cannot afford to continually overlook at-risk populations and it falls on all of us to do our part for change." 
Employee financial stress - amplified by COVID-19 - a destructive force on businesses 
Financial stress continues to quietly wreak havoc on employee productivity. Workers dealing with financial stress are nine times more likely to have sleepless nights, four times more likely to have their stress affect the quality of their work, five times more likely to not finish daily tasks, and four times likely to have troubled relationships with coworkers. It's a recipe for disaster for businesses.  
After financial stress spiked to nearly two-thirds of the working population in a study conducted by Salary Finance last summer, it has returned to early-2020 levels, hovering at 42 percent. As the pandemic worsened, so did the financial implications on households with a positive COVID-19 diagnosis. Nearly 60 percent of people with a positive COVID diagnosis in their household said they spent over $500 in healthcare costs as a result - and 40 percent spent over $1,000. It isn't simply the initial costs of care: more than 20 percent of the COVID-positive cohort said they still suffer from long-term side effects, and 20 percent lost household income due to contracting COVID-19. 
For many people, the pandemic created situations where a family member required a level of financial assistance. Of the 40 percent of workers providing financial assistance to a family member, more than 50 percent of people said those expenses had increased since the beginning of the pandemic; for 30 percent, it went up by more than $250 a month. Of those with children, over half said they had to reduce working hours to make childcare work. 
Long-term savings emerges as top financial priority for Americans 
As accommodations from creditors and lenders expire over the coming months, Americans are in dangerous territory when it comes to their savings buffer. In 2020, less than 50 percent of workers didn't have any emergency savings. This year that percentage skyrocketed to nearly 70 percent. Further accelerating the problem: the percentage of people who don't consistently save money doubled, from 14 percent in 2020 to 28 percent this year.  
Last year, when asked what areas of their financial wellbeing they'd like to improve, 40% said long-term financial planning. That answer saw the biggest jump in this year's survey, with 55% of employees saying that it has become a priority. The fallout from the pandemic has clearly left an impression on people, who now recognize the importance of having a longer-term financial plan in place. With that in mind, it should come as little surprise that getting better at savings was next among improvements employees are striving to make. Nearly 50 percent of respondents selected it. 
"Businesses have a tremendous opportunity in front of them to act in the best interest of their people and put the programs and benefits in place to help them with their financial plight," Macklin said. "Employees trust their companies to do right by them - even amongst financially stressed workers, seven out of 10 trust the companies they work for. With financial wellbeing being a priority now for so many, we found that close to 60 percent of employees are interested in a salary-linked savings benefit. Salary Finance remains committed to partnering with forward-thinking businesses to move millions of Americans out of debt and into savings." 
Download the free report here. 
About Salary Finance
Founded in 2015, Salary Finance is an award-winning organization that partners with employers to offer financial wellness solutions that help employees be financially healthier and happier. A company underpinned by a social purpose, we're driven by an ambitious mission in the US: to help 10 million Americans out of debt and into savings. Salary Finance is a United Way Worldwide corporate partner and works with over 600 of the world's leading employers. Salary Finance is a Founding Member of Conscious Capitalism's Senior Leader Network, and a member of the American FinTech Council. To learn more, please visit www.salaryfinance.com/us.
Media Contact: 
Phil LeClare
Public Relations 
Salary Finance 
phil.leclare@salaryfinance.com 
617-209-9406