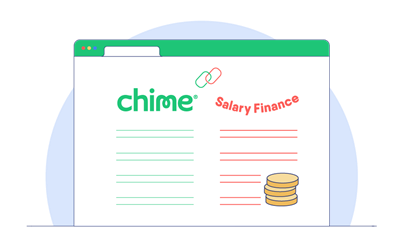 Salary Finance will provide employees of partnered employers with up to a $50 bonus for contributing to high-interest savings account
BOSTON, July 8, 2021– Salary Finance, the leading provider of socially responsible financial products for American workers, announced an ambitious new product today that aims to help millions of U.S. workers save more money. In partnership with financial technology company Chime, Save from Salary Finance will enable US workers who are employed by Salary Finance's employer partners to open a Chime spending account and high-interest Chime savings account, connect their direct deposit, and get rewarded for saving. Salary Finance will also uniquely pay workers to build their savings.
Not enough people are saving money: according to recent Salary Finance data, nearly 70 percent of employees don't have savings set aside for emergencies and unexpected expenses. A lack of savings can often lead people to rely on high-cost borrowing options, like payday loans or high-interest credit cards, when unexpected expenses or income disruptions occur. This can lead to a treadmill of seemingly never-ending debt repayments. However, while saving is hard - especially during a global pandemic - a recent survey from Commonwealth showed that those who had a savings buffer were better able to weather the pandemic.
"We are on a mission at Salary Finance to ensure millions of American workers are able to easily build savings from their paycheck," Dan Macklin, Chief Executive Officer, Salary Finance Inc, said. "Save is designed to incentivize working Americans to set up a savings account, link it to their salary, and benefit from a $50 bonus, with the aim of helping all employees build up to at least $500 in emergency savings. We are committed to continuing to develop impactful financial benefits that help Americans thrive." 
In addition to the bonus from Salary Finance, when employees open a Chime savings account by leveraging Save, they get 0.50% Annual Percentage Yield (APY)1 - 10 times higher than the national average - on their savings balances with no hidden fees and no minimum balance requirement2. Employees can set their Chime account up so that money automatically moves from salary to savings every pay period3. Chime also offers users a fee-free overdraft feature called SpotMe4, early access to direct deposits5, and a "save while you spend" feature to round up spending into savings6.
It's historically been hard for businesses to get comfortable addressing the personal finances of their employees. The ice on the relationship between business and employee has started to thaw - 75 percent of employees trust their employer when it comes to their personal finances - providing an opening for businesses to have that discussion with workers. By offering Save, employers can build trust and good will by providing employees with a better way to save money in case of emergencies or unexpected income disruptions.
Salary Finance launched Borrow, its low-interest employee loan product, three years ago in the U.S. Earlier this year, Community Investment Management (CIM) committed $150 million of debt funding over the next three years to help working Americans struggling with financial stress access affordable credit.
Are you an employer interested in offering Save to your employees? Click here to get in touch.
About Salary Finance
Salary Finance's mission is to improve the financial health of working Americans by providing access to socially responsible financial products in the workplace. When employees can access affordable credit, reduce bad debt, and increase their savings, they're happier and more productive at work, and more likely to achieve long-term financial stability. Employers benefit from improved retention and engagement, at no additional cost. Our award-winning technology platform enables us to offer better, inclusive financial products such as high-interest savings accounts, access to affordable credit, and personalized financial education. Salary Finance is a United Way Worldwide corporate partner and works with over 600 of the world's leading employers. Salary Finance is a Founding Member of Conscious Capitalism's Senior Leader Network, and a member of the American FinTech Council. To learn more, please visit www.salaryfinance.com/us.
About Chime Financial, Inc.
Chime is a leading US provider of mobile banking services that helps members avoid traditional bank fees, save money automatically, and achieve financial peace of mind. Founded by financial and tech industry veterans Chris Britt and Ryan King, Chime offers its members on behalf of its banking partners, The Bancorp Bank and Stride Bank, Members FDIC, a Spending Account, optional Savings Account, Chime Visa® Debit Card and a powerful mobile app that gives them complete control of their finances. The Chime mobile app is available for iPhone®️ and Android devices and has been featured as one of the top rated Money Management apps in the App Store. www.chime.com.
Media Contact:
Phil LeClare, Public Relations, Salary Finance
phil.leclare@salaryfinance.com
617-209-9406
Originally published on Businesswire