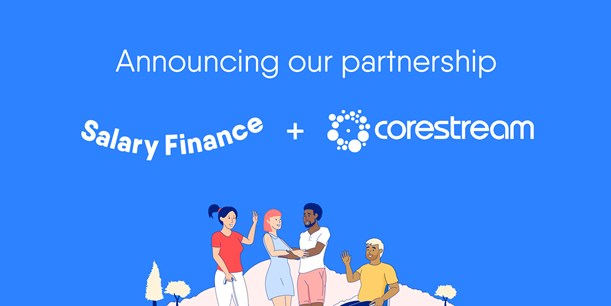 November 9, 2021 - Salary Finance, the leading global provider of socially responsible financial products in the workplace, today announced a partnership with Corestream, the leading platform for connecting employees with personalized lifestyle benefits. Salary Finance's full suite of products will now be available on the Corestream platform, making it possible for employees at Corestream client organizations to enroll in voluntary benefits that can improve their financial wellbeing.
Salary-linked financial wellbeing benefits have become a popular option for large employers to offer to their employees, particularly as the percentage of workers who experience financial stress swells. Salary Finance's most recent study found that more than 40 percent of US workers are financially stressed. Corestream customers will now have access to the Salary Finance suite of products, which includes a low-cost, salary-deducted loan product and an emergency savings product.
"Salary Finance offers the most holistic financial wellbeing program in the market, and Coresteam, with its platform for delivering a seamless voluntary benefits experience to employers and employees alike, is a perfect partner for us," Dan Macklin, CEO, Salary Finance, Inc. said. "Through our partnership, we'll be able to help more people and provide another impactful benefit in Corestream's arsenal."
Borrow, Salary Finance's lending product, offers employees of Corestream enterprise clients lower fixed interest rates - from 5.9 to 19.9 Annual Percentage Rate (APR)* - than other options such as credit cards and payday loans. Because Salary Finance is able to underwrite based on employment data, and not primarily credit history, a higher percentage of applicants are accepted. The company recently introduced Save, which enables employees to open a savings account, connect their direct deposit, and get rewarded for saving. Save is designed to incentivize working Americans to build up to at least $500 in emergency savings and benefit from up to a $50 bonus paid by Salary Finance.
"The battle to attract and retain talent is real. Now, more than ever, benefits need to extend beyond traditional healthcare, vision, and dental, which means HR teams need more options at their disposal," Sharon Broadway, SVP of Partnerships, said. "Our partnership with Salary Finance provides a holistic financial wellbeing benefit to our clients to help employees achieve financial stability by avoiding high-cost debt and building up their savings."
The Corestream cloud-based platform is an employer-branded solution that delivers a seamless voluntary benefits experience that improves employee engagement, health and financial wellbeing. With Corestream greatly simplifying the way in which personalized lifestyle benefits are offered and administered by HR, and the way those benefits are understood and selected by employees, both the variety of benefits and employee participation rates continue to climb.
* Individual fixed rate and maximum loan eligibility may vary based on creditworthiness and employer.
About Salary Finance
Salary Finance's mission is to improve the financial health of working Americans by providing access to socially responsible financial products in the workplace. When employees can access affordable credit, reduce bad debt, and increase their savings, they're happier and more productive at work, and more likely to achieve long-term financial stability. Employers benefit from improved retention and engagement, at no additional cost. Our award-winning technology platform enables us to offer better, inclusive financial products such as high-interest savings accounts, access to affordable credit, and personalized financial education. Salary Finance is a United Way Worldwide corporate partner and works with over 600 of the world's leading employers. Salary Finance is a Founding Member of Conscious Capitalism's Senior Leader Network, a member of the American FinTech Council, and winner of Finovate's Best Consumer Lending Solution award for 2021. To learn more, please visit www.salaryfinance.com/us.
About Corestream
Corestream is a leading voluntary benefits technology provider that believes the success of any organization relies on the overall wellness of its workforce, from physical and mental health to financial wellbeing. Corestream's revolutionary SaaS platform scales the distribution and adoption of voluntary benefits to become an integral part of protecting and enhancing the employees' livelihood. By removing barriers and streamlining administration, Corestream has become a powerful tool in the arsenal of HR teams, brokers, vendors, and employees. For more information, visit Corestream.com.