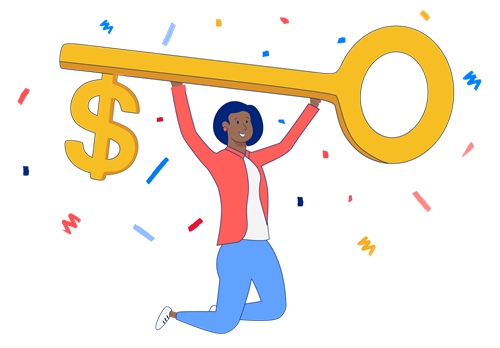 Salary Finance looks to recognize employees of participating employer partners that share how they've lowered or eliminated their debt 
BOSTON, October 7, 2022 – October is unofficially "Crush Your Debt" month and Salary Finance, the leading global provider of socially responsible financial products in the workplace, is inviting employees at member companies in the United States to share a video with their personal stories about how they have managed their debt. Salary Finance is committing up to $50,000 to recognize those with the most inspiring stories, who, if featured, will receive a $500 gift card1 to spend on gas, groceries, or other household essentials to help with increased costs of living. 
Borrow2, Salary Finance's affordable loan solution available as a voluntary benefit, has empowered workers across the US to reduce their debt. Whether it's paying off higher-interest credit card debt, taking care of overdue bills, or handling other unexpected costs, Salary Finance wants to celebrate and bring attention to those that have focused on their financial wellness during these turbulent times.
"Record-high inflation, which has come right on the heels of the worst global pandemic in over a century, has hit Americans hard," Asesh Sarkar, Global CEO, Salary Finance, said. "With the 'Crush Your Debt' initiative, Salary Finance is recognizing and rewarding the inspirational workers who have persevered and paid down or off their debt, kickstarting their journey from debt into savings." 
Thirteen million U.S. households have negative net worth, according to the Aspen Institute. In a recent survey that will be released later this month, Salary Finance found that one-third of workers are running out of money between paychecks and more than 40 percent have depleted half of their savings in the last year. 
The "Crush Your Debt" campaign is open to eligible employees of Salary Finance employer partners. Recipients of the $500 gift cards will be contacted by December 1, 2022 and invited to share their stories on video. Salary Finance will host a webinar on how people can manage their finances around the holidays, and each week, will roll out new content on their financial education platform, Learn, sharing ideas for how people can manage their money during this challenging period of high inflation and cost of living increases. Salary Finance's podcast, Working on Wellbeing, will also feature new episodes with guests who will provide insights and stories on overcoming debt and building savings.
To learn more about the "Crush Your Debt" campaign or how you could offer the Salary Finance program to your employees, get in touch here. 
About Salary Finance
Salary Finance's mission is to improve the financial health of working Americans by providing access to socially responsible financial products in the workplace. When employees can access affordable credit, reduce bad debt, and increase their savings, they're happier and more productive at work, and more likely to achieve long-term financial stability. Employers benefit from improved retention and engagement, at no additional cost to the employer. Our award-winning technology platform enables us to offer better, inclusive financial products such as high-interest savings accounts, access to affordable credit, and personalized financial education. Salary Finance is a United Way Worldwide corporate partner and works with over 600 of the world's leading employers. Salary Finance is a Founding Member of Conscious Capitalism's Senior Leader Network, and a member of the American FinTech Council. To learn more, please visit www.salaryfinance.com/us. 
Media Contact: Phil LeClare, Public Relations, Salary Finance, phil.leclare@salaryfinance.com, 617-209-9406
1Terms and Conditions apply. Please see resources.salaryfinance.com/cyd for full "Crush Your Debt" campaign rules and details.
2Salary Finance branded loans are offered by Axos Bank® Member FDIC, and are subject to eligibility, underwriting, terms and conditions, and approval.
Originally published on Businesswire